Oceans
A resilient ocean sustains marine life and functioning ecosystems that support rich biodiversity, food security and sustainable livelihoods
Overview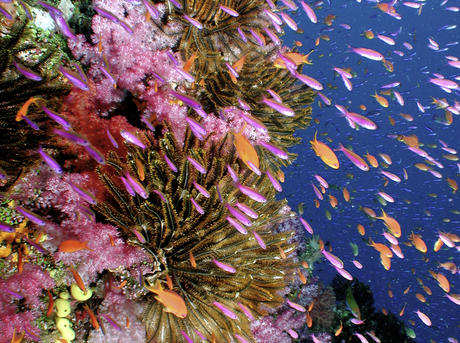 $2.5
Trillion
Economic benefits generated by the ocean per year
The ocean covers more than two-thirds of our living planet鈥檚 surface and is home to spectacular ecosystems and treasured wildlife. No matter where you live, you鈥檙e never far from the ocean鈥檚 reach.
The value of the marine world goes well beyond biodiversity鈥攖he ocean sustains the lives of billions of people, regulates our climate, produces half the oxygen we breathe, and fuels the water cycle that produces rain and freshwater. But after decades of overuse and pollution, these services are being interrupted.
One out of three fish stocks is overfished. Hundreds of thousands of marine mammals, seabirds, and sea turtles are captured each year, along with tens of millions of sharks. Half of all coral reefs and mangroves are gone.
Taking better care of our ocean is something we must do together. WWF is working to build a more resilient ocean by improving how we manage what goes in and what comes out of the ocean, all while protecting important regions, like the Arctic, and threatened ecosystems like coral reefs and mangrove forests.
Ghost fishing gear includes any abandoned, lost, or otherwise discarded fishing gear. It is the deadliest form of marine plastic debris and often goes unseen. Learn more about how you can help stop this silent killer and protect the health of our ocean its inhabitants.
Why It Matters
Regulating Global Climate

Our ocean plays a crucial role in keeping the planet's temperature balanced and driving weather, such as rainfall and winds. Unfortunately, it's also absorbed most of the planet's warming—over 90%—and a significant amount of our carbon pollution as a result of human-caused climate change. Warmer ocean waters are driving stronger storms and bleaching coral reefs. As the ocean absorbs carbon dioxide, it becomes more acidic, threatening most shelled organisms, including small crustaceans that are fundamental to the marine food chain.

Sustainable Livelihoods

The ocean is a lifeline for people around the world, generating at least $2.5 trillion worth of products and services each year. Fishing alone supports more than 260 million jobs. Only a healthy ocean can keep this economic engine running.

Food Security

Seafood is the major source of protein for roughly 1.5 billion people. But according to the UN Food & Agriculture Organization, one out of every three assessed wild fish populations have been harvested beyond their limit and cannot handle the pressure that would come from adding more boats, nets, or poles. There are also regions with little enforcement of rules where the most destructive fishing practices continue to damage habitats and ecosystems, as well as the marine life that calls them home.

Marine Life

Scientists estimate more than 2 million species live in ocean waters and nine out of 10 haven't been fully identified. The Marine Living Planet Index recorded a 36% overall decline in the abundance of vertebrate marine life between 1970 and 2012. Unsustainable fishing is the primary direct threat to marine wildlife, followed by habitat degradation, which can also include a loss of food sources.